Wow Moment
The wildflower collection in Western Australia is one of the largest on Earth. With more than 12,000 species, over 60% of which are found nowhere else on Earth, they colour the landscapes from coast to forest and city to outback. The six-month flowering season begins in the north in June and July on the vast outback plains of the Pilbara where vibrant blooms contrast with pindan earth, rugged canyons and turquoise sea.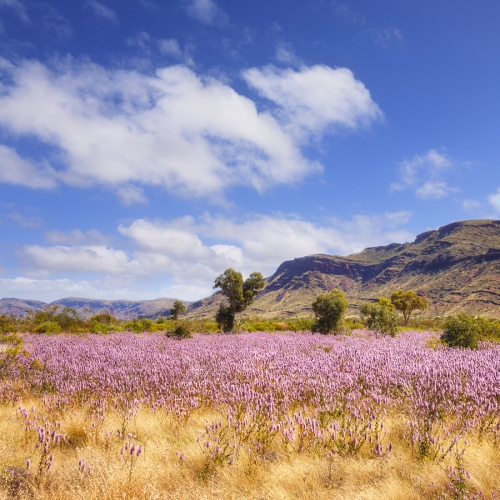 Highlights
Broome Courthouse Garden Markets
Broome Highlights Tour
Willie Creek Pearl Farm
Broome Hovercraft Dinosaur & Sunset Tour
Pardoo Cattle Station
Beautiful Wildflower Spotting Throughout (subject to seasonal flowering)
Port Hedland Sunset Harbour Tour
Karijini National Park
Tom Price Rio Tinto Mine Tour
Cheela Plains Station
One Mile Jetty Sunset
Shark Bay - Hamelin Pool
Shell Beach
Eagle Bluff Lookout
Ocean Park Aquarium
Monkey Mia Wildlife & Sunset Cruise
Kalbarri National Park - Twin Skywalks, Natures Window, Hawks Head Lookout & Ross Graham Lookout;
Sea Cliff Drive - Pot Alley, Eagle Gorge, Island Rock, Natural Bridge, Pink Lake/Hutt Lagoon
Museum of Geraldton
Monsignor Hawes Heritage Centre
St Francis Xavier's Cathedra
HMAS Sydney II Memorial
The Tin Heads
Central Greenough Cafe & Visitor Centre
The Big Lobster
Fishermen's Memorial Lookout Illegal Tender Rum Co
Hansen Bay Lookout
Nambung NP & The Pinnacle
Wubin Wheatbin Museuum
Wildflower Reserves of Wubin & Delwallinu
Windmill Shed
Slater Homestead
Wave Rock & Hippos Yawn
Wild Flower Shop
Lace Museum & Toy Soldier Museum
Corrigin Dog Cemetery
York Motor Museum
Port City of Fremantle
Perth - Perth Mint & Gold Pour
Elizabeth Quay
Swan River Lunch Cruise
The Bell Tower - Swan Bells & ANZAC Bell
Dinner C Revolving Restaurant
Rottnest Island Day - Olive Hill Train & Tunnel WWII Tour
Kings Park & Botanical Gardens
Friends for Company!
Inclusions
Personally Escorted by an experienced Sisterhood Hostess who is on hand to assist with making your holiday a memorable one
Return Flights to Broome / Perth including luggage ex Melbourne (other cities available upon request)
​Comfortable Coach Touring Throughout
Accommodation with private facilities
​Fabulous Range of Included Sightseeing and Activities
​All Meals as detailed in Itinerary
​Free Time for Personal Discovery
Room Sharing Option
​Meet and Greet prior to Departure (subject to minimum numbers)
Notice
COVID-19 NOTICE
The itinerary is subject to change due to COVID-19 restrictions.
Should social distancing measures remain in place, Sisterhood Womens Travel will adapt our itinerary accordingly.
Itinerary
Day 1 - Wednesday 22 September 2021
Melbourne - Broome (D)
Welcome to Sisterhood Womens Travel. Your Tour Hostess and fellow travellers will meet you at the Melbourne Airport for your flight to Broome.
Today we land in the beautiful beach resort township of Broome in Western Australia's Kimberley region, well known for the 22km long white sands of Cable Beach, the producers of some of Australia's best pearls as well as its unique sunset camel rides. Originally founded as a pearling port over a hundred years ago, Broome now boasts a multicultural population of many nationalities lured here by the promise of finding their fortunes. Koepanger, Malay, Chinese, European and Aboriginal cultures have all blended to create a captivating, friendly and flamboyant personality that is the heart and soul of Broome. Upon arrival we are met by our coach captain who will transfer us to the famous Broome Courthouse Garden Markets. Started over 25 years ago by a small group of locals wishing to trade local product, they have grown to become a major tourist attraction in Broome and host up to 115 creative stalls over the Dry Season. At 1.00pm our coach captain will provide us with a "Highlights of Broome Tour" hearing fascinating stories of the colourful precinct of Chinatown and Streeters Jetty where the Pearl Luggers unload their oysters, the famous Sun Pictures, the world's oldest operating open air picture garden (now listed in the Guinness World Records). Following our guided tour we are escorted to the hotel to check-in with time to refresh before a sunset drink followed by dinner in the 1861 Restaurant and bar.
Overnight Broome: Oaks Broome Hotel
Day 2 - Thursday 23 September 2021
Free Day in Broome (B)
Today is a free day to enjoy at leisure so why not check out some of the local history by visiting the Broome Historical Museum, SSJG Heritage Centre or the Pearle Luggers in the heart of Chinatown. Late this afternoon perhaps take the opportunity to take part in an iconic sunset camel ride.
There are also plenty of half or full day tour and scenic flight options from Broome: Horizontal Falls Fly/Cruise; Cape Leveque; Windjana Gorge & Tunnel Creek; Cygnet Bay Air & Sea Safari or Cygnet Bay & Giant Tides Safari; Mitchell Falls; Bungle Bungle Air Safari plus many more.
Overnight Broome: Oaks Broome Hotel
Day 3 - Friday 24 September 2021
Broome Sightseeing (B,D)
This morning our tour of Willie Creek Pearls offer the complete pearl experience, from telling the story of history and pearling in Broome, to educating about modern-day pearling, right through to commercial pearl farming and jewellery manufacture. Discover how pearls are produced in the protected tidal estuary and witness farming operations from the water on our cruise before watching a pearl presentation. Late afternoon after a rest back at the hotel our Broome Hov­er­craft will trans­port us across the tidal floor to see dinosaur foot­prints in old pet­ri­fied forest on the oth­er side of Roe­buck bay. Glid­ing along the tidal edge take in the view as Pel­i­cans, Egrets, Osprey and Sea Eagle pass by, whilst mar­vel­ling at the dra­mat­ic red rich Pin­dan cliff back­drop as we land on a seclud­ed patch of pris­tine coast­line. As the tide con­tin­ues to fall we then head off into the Bay, set­tle down on the sandy sea floor and let our pilots look after us with sparkling wine and hors d'oeuvres as the sun final­ly sets sil­hou­et­ting the Broome Penin­su­la whilst glis­ten­ing off rip­ples in the tidal floor. Following our wonderful experience enjoy dinner back at the 1861 Restaurant.
Overnight Broome: Oaks Broome Hotel
Day 4 - Saturday 25 September 2021
Broome - Port Hedland (B,L,D)
Today after early check out we farewell Broome and set out to Port Hedland via the Great Sandy Desert, one of the must 'sees' in the state. Port Hedland is the second largest town in the Pilbara region of Western Australia, it has a population of 14,320 including the town of South Hedland. After a refreshment stop at the Sand Fire Roadhouse we arrive at the Pardoo Cattle Station for lunch and a look at the unique flora and fauna. Pardoo Station is a 200,000-hectare working cattle property covering a diverse range of landscapes from rich tidal flats to rolling spinifex plains. It was established in the 1860s and has played a significant role in the Pilbara region's rich pastoral history. The station was purchased by Pardoo Beef Corporation in 2015 and is the hub of a $200 million development to establish a world-class West Australian Wagyu beef industry with plans to establish a regional breeding herd of more than 100,000 Wagyu animals by 2031. From Pardoo Station its a 90 minute drive down into Port Hedland for check in and a rest. Late afternoon enjoy a fabulous Sunset Harbour Tour of The Port Hedland's Port to see up close the Iron Ore ships, and learn about the operations of the port before returning to our hotel for dinner in Heddy's Bistro.
Overnight Port Hedland: Ibis Styles Hotel Port Hedland
Day 5 - Sunday 26 September 2021
Port Hedland - Karijini National Park (B,L,D)
Today after check out we venture out to the stunning 627,422 hectare Karijini National Park which offers spectacular rugged scenery, ancient geological gorge formations, waterfalls, sparkling rock pools and a range of unforgettable experiences. Karijini National Park is the second largest national park in Western Australia, centred on the Hamersley Range. After a comfort stop and bite to eat at the Auski Tourist Village Roadhouse our drive continues into national park taking in the spectacular Dales Gorge, Fortescue Falls and the rock pools. After a stop at the Karijini Visitors Centre we continue further into the park passing the Eco Village to the breathtaking Oxer Lookout for magnificent late afternoon views of the junction of the Red, Weano, Hancock and Joffre Gorges some 130m below. The lookout is a short walk from the car park and nearby is the Junction Pool Lookout with views of Hancock Gorge. An amazing day complete its check in time at the unique Eco Retreat en-suite tented accommodation, these provide a glamorous end to an adventurous day offering comforts that aren't typically associated with camping. This evening meet for dinner at the Alfresco Restaurant to enjoy the uninterrupted view of the night sky.
Overnight Karijini: Karijini Eco Retreat
Day 6 - Monday 27 September 2021
Tom Price - Karijini National Park (B,L,D)
This morning we set out for a small town nestled deep in the Hamersley Ranges at the base of the towering Mount Nameless in the Pilbara region of Western Australia, Tom Price. Home to one of the world's richest Iron Ore deposits, the mine which is managed by Rio Tinto is one of the largest open cut mines in the world. Enjoy a tour of the mine beginning at the Tom Price Visitor Centre where safety glasses are issued and a hard hat in preparation for a unique mine experience. We are transferred to the mine in air-conditioned comfort and enjoy full commentary visiting the main pit lookout and viewing the enormous Haul Trucks at work, travel through the process plant and onto the train load out area. Following our tour enjoy lunch at the Tom Price Hotel Motel before travelling back to our retreat via Joffre and Knox Gorges. Another wonderful day behind us its time to relax before dinner at the Alfresco Restaurant.
Overnight Karijini: Karijini Eco Retreat
Day 7 - Tuesday 28 September 2021
Karijini National Park - Carnarvon (B,L,D)
After an early breakfast its time to farewell this amazing national park and make our way to Carnarvon, a busy commercial centre for the rich Gascoyne district. The Cheela Plains Station makes a perfect morning tea stop, a family owned and managed cattle station located in the semi-arid, pastoral range-lands of the Pilbara. We continue to Nanutarra Roadhouse for a classic country lunch before continuing down the North West Coastal Highway stopping on the way at the Lyndon Rest Area. On arrival into Carnarvon we cross the Babbage Island to witness the sunset at One Mile Jetty before checking into the motel and enjoying dinner in Sails Restaurant.
Overnight Carnarvon: Hospitality Carnarvon, Surestay Collection by Best Western
Day 8 - Wednesday 29 September 2021
Carnarvon - Monkey Mia - (B,L,D)
After breakfast and checkout our journey down along the west coast continues today to the iconic Monkey Mia situated on Shark Bay. After a comfort stop at the Shark Bay turn-off Roadhouse we stop in at the Hamelin Pool Stromatolites, one of only two places in the world with living marine stromatolites, or 'living fossils'. Our next stop is at the amazing snow white Shell Beach made up of billions of tiny shells up to 10 metres deep and stretching for over 70 kilometres. There is no sand, only shells! Shell Beach is one of only a handful of places on earth where shells replace beach sand in such a dramatic and picturesque way. A short stop at Eagle Bluff Lookout provides breathtaking views out over the Denham Sound. The Ocean Park Aquarium is an award-winning, eco-friendly aquarium located on the pristine shores of the Shark Bay Marine Park. After lunch in Oceans Restaurant watch the raw fury of sharks feeding; discover moray eels, highly venomous sea snakes, excruciating stonefish and more! Learn about the secret lives of clownfish, stingrays, and visit the rescued sea turtles with our entertaining tour guide. Denham is both the western most town in Australia and the gateway to Monkey Mia. Take a stroll along Knight Terrace and check out the Old Pearler Restaurant which claims that it is the only restaurant in the world built entirely of tiny coquina shells. The Shark Bay World Heritage Discovery and Visitors Centre also provides an interesting stop to take in the importance and history of Shark Bay. From Denham its a 20 minute drive to the Monkey Mia Dolphin Resort for check in and rest before sunset drinks (own cost) and then dinner The Boughshed Restaurant.
Wild dolphins have been visiting the shoreline at Monkey Mia virtually every day for over 40 years, making this spot in the Shark Bay World Heritage Area one of the best and most reliable places for dolphin interaction in the world.

Overnight Monkey Mia: Monkey Mia Dolphin Resort
Day 9 - Thursday 30 September 2021
Monkey Mia - Shark Bay (B,D)
The marine life in the UNESCO World Heritage Shark Bay Marine Park is known for its large marine animals, such as the famous Monkey Mia dolphins, turtles, dugongs, manta rays, sharks and other amazing and endangered marine life which can be observed this morning on our 3 hour Monkey Mia Marine Life Cruise. After a relaxing afternoon back at the resort its time to set sail again with a 1.5 hour Sunset Cruise as we watch the sun settle over the Francois Peron National Park as our sails fill with the winds of Shark Bay. Just kick back with a drink from the fully licensed Ocean Lounge Bar and enjoy the ride as we lose ourselves in nature's music. Tonight dinner will be back in the Boughshed Restaurant.
Overnight Monkey Mia: Monkey Mia Dolphin Resort
Day 10 - Friday 1 October 2021
Monkey Mia - Kalbarri - Geraldton (B,L,D)
Today has us leaving this beautiful part of the world and making our way down the North West Coastal Highway to Geraldton via Kalbarri. The Billabong Roadhouse provides a refreshment stop before arriving in the Kalbarri National Park where Natures Window, Hawks Head Lookout, Ross Graham Lookout and the amazing Kalbarri Skywalk provide captivating views across the Kalbarri Gorges and Murchison River. This site includes the new twin skywalks built 100m apart at the Inyaka Wookai Watju site (the West Loop) across the gorge from Nature's Window. The walkways project 25m and 17m beyond the gorge rim, more than 100m above the Murchison River. The Kalbarri National Park is one of the best known national parks in Australia with an exceptional display of wildflowers between August and October. There are several species that can only be found within the park, including the Kalbarri spider orchid. Following lunch in Kalbarri our adventure continues as we take in some of the sights along the famous coastal cliff drive including Pot Alley, Eagle Gorge, Island Rock and Natural Bridge plus the Pink Lake/Hutt Lagoon before arriving in Northampton for a comfort stop. From here it's a leisurely 45 minute drive down into Geraldton for check in to our hotel. After a freshen up meet for sunset drinks at Roof Top Bar fondly known as 'The Old Man and the Sea' before sitting down to dinner in the Lobby Restaurant.
Overnight Geraldton: The Gerald Apartments
Day 11 - Saturday 2 October 2021
Geraldton (B,D)
There is a lot to learn about this city and life in the Midwest at the Museum of Geraldton. The Museum celebrates the region's history and is a great place to visit to learn about the Batavia Shipwreck and Houtman Abrolhos Islands. A fascinating journey follows after we arrive at the Monsignor Hawes Heritage Centre, a state-of-the-art interpretive centre, within the grounds of St Francis Xavier's Cathedral that tells the story of architect-priest Monsignor John Cyril Hawes through his own words. By utilising Hawes' diary entries, drawings and personal records, we are privy to Hawes' personal thoughts. Large pull-out display drawers, designed to strict conservation standards, display a selection of Hawes' original drawings and documents that wouldn't otherwise be seen due to their fragile nature. The MHHC complements the stunning St Francis Xavier's Cathedral and is the gateway to the Monsignor Hawes Heritage Trail and generally regarded as one of his finest works. Following our tour its time to break for lunch before our afternoon visit and guided tour at the all important HMAS Sydney WWII Memorial, dedicated to the lost lives in the greatest single tragedy in Australian naval history.
Overnight Geraldton: The Gerald Apartments
Day 12 - Sunday 3 October 2021
Geraldton - Cervantes (B,D)
After breakfast and checkout this morning, something a little different and unique awaits at The Tin Heads where Margaret and Robert Gaston have what's said to be the biggest collection of tins in Australia, nudging 10,000 they welcome thousands of visitors from around Australia and overseas each year. Our first stop after leaving Geraldton today is the historic little settlement of Greenough, take note of the leaning trees! The Central Greenough Café and Visitor Centre provides the perfect location to enjoy morning tea and a little bit of history. The Big Lobster is worth a photo shot down in Dongara/Port Denison as is a drive along the foreshore to the Fishermen's Memorial Lookout before visiting the Illegal Tender Rum Co. Its time to leave the Brand Highway and take in some stunning ocean vistas and lookouts down along the picturesque Indian Ocean Drive through Green Head, Jurien Bay to Cervantes.
On our arrival admire the views from Hansen Bay Lookout before check in at the Cervantes Pinnacles Motel. After a freshen up gather in The Europa Anchor Restaurant for drinks at own cost and then dinner.
Overnight: Cervantes: Cervantes Pinnacles Motel
Day 13 - Monday 4 October 2021
Nambung National Park Pinnacles - Dalwallinu (B,D)
After breakfast and check out we travel down to the remarkable Nambung National Park home to the extraordinary ancient limestone formations that make up the Pinnacles, one of Australia's most unique landscapes. In places, the pinnacles reach up to 3.5m tall. Some are jagged, sharp-edged columns, rising to a point, while others resemble tombstones. The Pinnacles Desert Discovery Centre explains its mysteries, history and habitats. After lunch break back in Cervantes our journey continues across to Dalwallinu via Miamoon Reserve and Wubin Rocks all part of the world famous Western Australian tourist routes through wildflower country. Keep a close watch for the rare and unusual Leschenaultia wreath flower which is famous in the region. Also a major wheatbelt area, it would be remiss not to call in and take a look at the history of grain handling inside the Wubin Wheatbin Museum. Learn how the wheat was collected and stored in the early days by viewing a collection of photographs and a fascinating display of farming machinery. Walk around the original 1930s wheatbin where the museum is situated and compare its size and structure to the modern bins that are located next door and are in operation today. Its then time to settle into the Wheatland Motel in Delwallinu before dinner in the Tropican at Wheatlands Restaurant.
Overnight Dalwallinu: Wheatland Motel
Day 14 - Tuesday 5 October 2021
Dalwallinu - Corrigin - Hyden (B,L,D)
Today our WA adventure continues down to the iconic Wave Rock after visiting The Windmill Shed, a unique, a privately owned collection belonging to Jim Sawyer who collects and restores windmills from the earliest through to the 1930's. Next stop is for morning tea at the picturesque stone and mud brick dwellings known as 'Slater Homestead', a historically significant and heritage listed collection of buildings. Proudly bearing testament to the pioneering spirit and foresight that opened up the heartlands of Western Australia. The Mallee Tree Cafe and Gallery in Corrigin provides the perfect stop for lunch before arriving in Hyden home to the amazing Wave Rock. After settling into our rooms at the Wave Rock Hotel Motel its time to make our way across to the Wave Rock Wildflower Shop, Lace Museum and Toy Soldier exhibition before stepping out onto Wave Rock – a 27 million year old prehistoric granite rock formation that will leave us in awe. It is 15 metres high and 110 metres long and has weathered into the shape of a wave. Follow the walking track around and also see "Hippos Yawn" another unusually shaped granite formation that was formerly part of the larger outcrop. After sunset we make our way back to our motel for pre-dinner drinks (own cost) and then dinner.
Overnight Hyden: Wave Rock Hotel
Day 15 - Wednesday 6 October 2021
Hyden - Fremantle (B,D)
This morning we farewell the rock and make our way across Fremantle travelling back through Corrigin where lies the famous Dog Cemetery, established in 1974, the cemetery is a tribute to man's best friend. With over 80 loved ones now buried, unique to Corrigin and well worth a visit.
Our next break comes at the historic township of York for the chance to purchase lunch before our tour. York was the first inland European Settlement in Western Australia and has maintained a vibrant spirit among its many Victorian and Federation buildings. On our highlights tour of York, admire the wonderfully preserved buildings and gain an insight into the grand old pioneer days. While still in York step inside the amazing Motor Museum where motoring history comes to life. A fascinating collection of cars and bikes that have cruised our roads and highways for over 100 years. From York it's a 120km drive across to the port city of Fremantle our base for the next 4 nights. After unpacking for the final time until we arrive home, why not take a stroll before dinner which will be in the Harbour Master Restaurant.
Overnight Fremantle: Esplanade Hotel Fremantle by Rydges
Day 16 - Thursday 7 October 2021
Perth (B,L,D)
Today it's into Perth to take in some of the city's major sights and attractions. The Perth Mint provides a great starting point as we set off on a guided heritage walk which takes us through the grand heritage building, the heavily secured vault and the original melting house providing the cues for many extraordinary stories about Western Australia's golden history and the Mint's prolific output of priceless gold bars and coins. The Gold Exhibition is a world-class attraction which uses the latest innovations in exhibition concept design and audio visual technology, to bring the story of Western Australian gold, and The Perth Mint, to life. Following our tour there will be time to stroll along Elizabeth Quay, the exciting new waterfront precinct on the banks of the Swan River before boarding our Captain Cook Lunch Cruise. A buffet of Western Australia's abundant seasonal fresh produce will be available to enjoy whilst taking in the views from our Swan River vantage point. On disembarking stroll to the Bell Tower, home of the Swan Bells, experience a fascinating live demonstration and explanation of full circle ringing by one of the experienced guides. The Anzac Bell commemorates the Centenary of Anzac 2014-2018, marking 100 years since Australia's involvement in the First World War. Weighing in at 6.5 tonnes, the bell is the heaviest of its kind ever to be cast in Australia. Then it is time to freshen up at our Hotel before dinner at the fabulous C Restaurant, Western Australia's only revolving restaurant and located on the 33rd floor of the St. Martins Tower. After soaking in Perth from all angles today, we head back to our hotel for the evening.
Overnight Fremantle: Esplanade Hotel Fremantle by Rydges
Day 17 - Friday 8 October 2021
Rottnest Island (B)
Today takes us across to Rottnest Island, WA's most beautiful island believed to have been separated from the mainland approximately 7,000 years ago. Our ferry departs B Shed Fremantle at 9.45am and arrives on Rottnest at 10.20am. On Rottnest Island our Oliver Hill Train and Tunnel Tour takes us on an historical journey passing some iconic and historical landmarks on the island. Upon arriving at Oliver Hill, we are taken on a guided tour through the stunning tunnel system that once played a crucial role in Australia's military defence in World War II. The area is still preserved with Rottnest's WWII guns and tunnels, which commemorate its military history and our soldiers who fought to defend the shores of Western Australia. The island was home to intricate secret tunnels and housed 9.2″ guns to protect against invading Axis forces. Post-war, the 9.2-inch battery on the island was saved from disposal due to the high cost of removal and shipping of the guns to the mainland. This led to the preservation of the military artefacts. Now, this equipment provides a look at the rich history of the Western Australian defence force and attracts many visitors to the area every year. Following our tour it's time for lunch which can be purchased from the bakery, café's or restaurants before a leisurely afternoon that may include at own cost a bike ride, a visit to the Rottnest Island Museum, Salt Store Gallery and Exhibition Centre, Lomas Cottage, Pilot Boathouse or go sailing. Our 4.45pm ferry arrives back at B-Shed Fremantle at 5.20pm before transferring back to our hotel for a rest. Dinner tonight is at own choice and cost.
Overnight Fremantle: Esplanade Hotel Fremantle by Rydges
Day 18 - Saturday 9 October 2021
Kings Park - Fremantle (B,D)
Today after breakfast we make our way up to Kings Park and the Botanical Gardens for a self-guided tour. Kings Park is one of the world's largest and most beautiful inner city parks. It is rich in Aboriginal and European history, contemporary culture and offers innovative design, displays and services. Kings Park has an international reputation for scientific research, leading horticulture, conservation and public education. Kings Park is home to the spectacular Western Australian Botanical Garden, which displays over 3,000 species of the State's unique flora. Two thirds of the 400 hectare park is protected as bushland and provides a haven for native biological diversity. Visitors enjoy the sweeping views of the Swan and Canning Rivers, the city skyline and the Darling Ranges to the east. This afternoon is all about Fremantle and however we want to enjoy it, as there is so much within walking distance of our hotel's doorstep. The Fremantle Markets are open from 8am to 6pm today, The Fremantle Roundhouse fires its cannon at 1pm, there's the WA Maritime or Shipwreck Museums, Bon Scott's statue for those AC/DC fans, Little Creatures Brewery or Bathers Beach House for those that want to kick back in the afternoon, The E Shed Markets and the Fremantle Harbour are just the tip of the iceberg. After our day at leisure we meet up in our hotel's restaurant for a farewell to WA dinner and to swap our stories of the day.
Overnight Fremantle: Esplanade Hotel Fremantle by Rydges
Day 19 - Sunday 10 October 2021
Kings Park - Fremantle - Home (B)
Today we bid farewell to Western Australia as we check in at the East Perth Railway Station to board Australia's own iconic train, the legendary Indian Pacific or at Perth Airport for our journey back home.