Wow Moment
Enjoy 3 Nights onboard The Indian Pacific. One of the worlds great rail journeys. It travels the 4,352 kms from Sydney through Adelaide to Perth. During your time aboard the Indian Pacific, all superb restaurant-quality dining and onboard beverages and off train touring are included.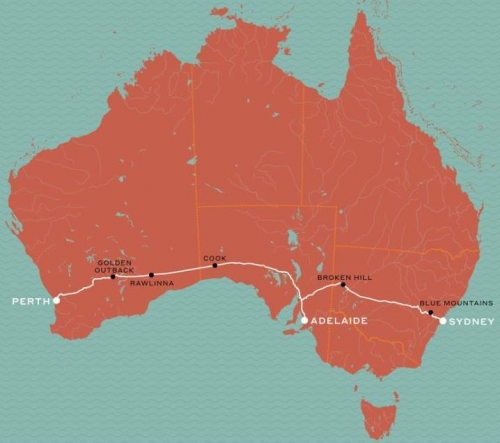 Highlights
Highlights tour of Sydney Harbour City
Waterview Lunch at Bondi Beach
Vaucluse House Guided Tour & High Tea
Sydney Opera House Guided Tour & Dinner
Visit to Darling Harbour
River Cat Ferry Cruise on the Parramatta River
Parramatta Sightseeing Tour with Historian & Author Judith Dunn
Lunch & Tour at Lachlins Old Government House
Visit to the Q Station at Manly
Sydney Tower Restaurant Spectacular Dining Experience
Queen Victoria Building
Sydney Harbour Lunch Cruise
Free Time for Exploring Sydney
Amazing Rail Journey, Sydney to Perth on the Indian Pacific
Port City of Fremantle
Rottnest Island Day - Olive Hill Train & Tunnel WWII Tour
Kings Park & Botanical Gardens
Perth Mint & Gold Pour
Elizabeth Quay & the Banks of the Swan River
The Bell Tower - Swan Bells & ANZAC Bell
Delightful Swan River Cruise
Visit to Wood Gallery & Museum
Busselton Jetty, Stocker Preston Express Train & Underwater Observatory
Margaret River Wine District & Tour
Cape Naturalist Lighthouse & Cottage Cafe
Lunch at The Caves House Hotel at Yallingup
Margaret River Chocolate Company & Tastings
Vasse Virgin Oil, Soaps & Produce
Xanadu Winery Lunch & Wine Tastings
Bunbury Dolphin Discovery Centre & much more!
Friends for Company!
Inclusions
Fully Escorted by a Sisterhood Tour Hostess who is on hand to assist with making your holiday a memorable one!
Return Economy flights Melbourne / Sydney // Perth / Melbourne (other departure cities available upon request)
11 Nights quality hotel accommodation
3 Night Indian Pacific Rail Journey, Gold Service Cabin
Luxury coach travel whilst touring
Breakfast, lunch & dinner as per Itinerary
All entry fees, attractions & guides as per itinerary
Meet and Greet subject to minimum numbers attending or on zoom
Willing to Share Option
Notice
COVID-19 NOTICE
The itinerary is subject to change due to COVID-19 restrictions.
Should social distancing measures remain in place, Sisterhood Womens Travel will adapt our itinerary accordingly.
Itinerary
Day 1 - Friday 23 September 2022
Melbourne - Sydney (L,D)
Welcome to Sisterhood Womens Travel! Meet your Sisterhood Tour Hostess and fellow travellers at the Melbourne Airport for our flight to Sydney. Upon our arrival into Sydney we are met by our local coach captain and and begin our tour with a highlights tour of the harbour city. We then make our way across to Port Botany and up through the southern beach suburbs of Coogee and Bondi where we enjoy a light lunch with stunning waterfront views of Bondi Beach. After lunch we travel to Vaucluse House, one of Sydney's few 19th-century mansions still surrounded by its original gardens and wooded grounds. Enjoy a guided tour through the house followed by a delightful high tea in the Tearooms before travelling across to North Sydney to our accommodation. After check in & time to freshen up we will gather in LB's Restaurant for pre dinner drinks at own cost before enjoying dinner.

Overnight - View North Sydney (or similar)
Day 2 - Saturday 24 September 2022
Sydney Sightseeing (B,D)
After a leisurely breakfast we will enjoy a guided tour of the iconic Sydney Opera House, discovering the stories, history and magic that has taken part underneath the world famous sails. We follow our friendly guide inside the World Heritage masterpiece, home to 1000 rooms, 300 corridors and hundreds of tales and secrets. Step inside the inspired theatres where more than 1600 performances come to life each year, and learn how Danish architect Jorn Utzon's ground-breaking design and vision for such a world class performing arts came into existence. Then stroll the Darling Harbour precinct visiting the many shops, cafés and restaurants. Early afternoon we travel back to our hotel enjoying the afternoon to rest before transferring back to the Sydney Opera House for dinner.
Overnight - View North Sydney (or similar)
Day 3 - Sunday 25 September 2022
Historic Parramatta - Q Station - Sydney Tower Dinner (B,L,D)
We enjoy a full day touring today starting at Circular Quay where we board the morning River Cat Ferry for a delightful cruise up the Parramatta River. After passing under the famous Sydney Harbour Bridge and by the iconic Sydney Opera House we call into several ports before arriving in Parramatta where we meet our local historian and author Judith Dunn for a guided tour in and around the historic sites of Parramatta.
Following our tour we'll enjoy lunch at Lachlan's Old Government House before heading across to the iconic seaside beach haven of Manly home to the Q Station where for over 150 years it was the beginning of a new life in Australia. We'll enjoy a history overview of the station before returning to our hotel to enjoy a rest and freshen up before our spectacular dining experience at the renowned Sydney Tower Restaurant. Offering over 50 freshly-prepared dishes from a range of cuisines, including modern Australian, Vietnamese, Chinese, Japanese, Italian and a selection of fresh seafood. The attentive and friendly service is matched with spectacular 360-degree views of the city, making the Sydney Tower Dinner a unique dining experience for locals and visitors alike.
Overnight - View North Sydney (or similar)
Day 4 - Monday 26 September 2022
Queen Victoria Building - Sydney Harbour Cruise (B,L)
After breakfast we board our coach and travel to the stunning Queen Victoria Building and experience 122 years of history, now affectionately known as the QVB. Designed by George McRae and completed in 1898 it replaced the original Sydney markets on the site. Built as a monument to the long reigning monarch, construction took place in dire times, as Sydney was in a severe recession. The elaborate Romanesque architecture was specially planned for the grand building so the Government could employ many out-of-work craftsmen - stonemasons, plasterers and stained window artists - in a worthwhile project. Originally, a concert hall, coffee shops, offices, showrooms, warehouses and a wide variety of tradespeople, such as tailors, mercers, hairdressers and florists, were accommodated.
We then make our way to Darling Harbour to board our Sydney Harbour Lunch Cruise on one of the most stunning harbours in the world. We return to our hotel for the afternoon and evening at our own leisure.
Overnight - View North Sydney (or similar)
Day 5 - Tuesday 27 September 2022
Sydney at leisure (B,D)
Today is free to explore as we wish, enjoy some down time or explore Sydney - why not take a visit to the famous Taronga Zoo for the day. Your hostess will also be on hand to give you some ideas for another fabulous day in Sydney.
Early evening we all gather back at the hotel for our last dinner in Sydney.
Overnight - View North Sydney (or similar)
Day 6 - Wednesday 28 September 2022
Sydney - Perth on the Indian Pacific (B,D)
After breakfast we enjoy some leisure time before checkout and transfers to the Sydney Rail Station to check in for our amazing rail journey across to Perth on the Indian Pacific departing at lunchtime.
The Indian Pacific is an elegantly luxurious train with comfortable interiors. The modern suites with their wooden surroundings contrast to the fantastic retro-Edwardian décor of the dining car, all complete with panoramic windows for perfect observation as the train crosses the vast continent.
Our trans continental adventure begins as we pull away from the platform in Sydney mid-afternoon. We'll wind our way through the truly breathtaking Blue Mountains as a sumptuous dinner accompanied by an array of fine wines is served. After dinner, relax with a nightcap, before heading off to bed.
Overnight - Indian Pacific - Gold Service Cabin
Day 7 - Thursday 29 September 2022
Rail Journey on the Indian Pacific (B,L,D)
We arrive in the 'Silver City' of Broken Hill as the day begins, where you each embark on your choice of the Off Train Excursions. Experience the town's unique mining, cultural and artistic attractions. Enjoy a leisurely breakfast back on the train as we make our way west.
Relax and take in the views. Before you know it, lunch is being served as the Indian Pacific enters the southern tip of the spectacular and ancient Flinders Ranges. Arriving in the city of Adelaide in the afternoon, you have the choice of a tour of the city, a visit to the world-famous Barossa Valley or McLaren Vale wine regions, or a trip to the beautiful Adelaide Hills featuring the culinary delights of Hahndorf. All tours include dinner. Re-boarding the train later in the evening, we will regroup & share our experiences in the lounge with old and new friends alike, before settling in for a comfortable night's sleep.
Overnight - Indian Pacific - Gold Service Cabin
Day 8 - Friday 30 September 2022
Rail Journey on the Indian Pacific (B,L,D)
We'll awaken in the seemingly endless expanse of the extraordinary Nullarbor Plain. Breakfast is served as we travel along the longest stretch of straight railway track in the world. Relax, read, chat or just take in the ever-changing views. This evening, we enjoy the tranquillity of dinner off the train and under the stars in the remote and beautiful Rawlinna.
Overnight - Indian Pacific - Gold Service Cabin
Day 9 - Saturday 1 October 2022
Rail Journey on the Indian Pacific - Perth (B,L,D)
Breakfast will be served as we glide through the colourful patchwork of rolling hills of the Avon Valley on our way to Perth, arriving after an onboard lunch.
After arriving into Perth, we transfer across to the port city of Fremantle, our home base for the next 3 nights. This afternoon is at our own leisure and there is so much within walking distance of our hotel's doorstep. The Fremantle Markets, the WA Maritime or Shipwreck Museums, Little Creatures Brewery or Bathers Beach House for those that want to kick back in the afternoon, The E Shed Markets and the Fremantle Harbour are just the tip of the iceberg. This evening we gather for pre-dinner drinks and dinner in the Harbour Master Restaurant.
Overnight Fremantle - Esplanade Hotel Fremantle by Rydges (or similar)
Day 10 - Sunday 2 October 2022
Rottnest Island (B)
This morning we venture across to Rottnest Island by ferry. Rottnest Island is WA's most beautiful island, believed to have been separated from the mainland approximately 7,000 years ago. On Rottnest Island we can explore at own leisure or have the option of the Oliver Hill Train and Tunnel Tour which takes us on an historical journey passing some iconic and historical landmarks.
Upon arriving at Oliver Hill, we are taken on a guided tour through the stunning tunnel system that once played a crucial role in Australia's military defence in World War II. The area is still preserved with Rottnest's WWII guns and tunnels, which commemorate its military history and our soldiers who fought to defend the shores of Western Australia. The island was home to intricate secret tunnels and housed 9.2″ guns to protect against invading Axis forces. Post-war, the 9.2-inch battery on the island was saved from disposal due to the high cost of removal and shipping of the guns to the mainland. This led to the preservation of the military artefacts. Now, this equipment provides a look at the rich history of the Western Australian defence force and attracts many visitors to the area every year.
Following our tour it's time for lunch which can be purchased from the bakery, café's or restaurants before a leisurely afternoon that may include at own cost a bike ride, a visit to the Rottnest Island Museum, Salt Store Gallery and Exhibition Centre, Lomas Cottage, Pilot Boathouse or go sailing. In the afternoon we transfer back to Perth on the ferry before heading to our hotel for a rest. Dinner tonight is own choice and cost.
Overnight Fremantle - Esplanade Hotel Fremantle by Rydges (or similar)
Day 11 - Monday 3 October 2022
Perth Highlights (B,D)
Today we enjoy Perth's major sights starting with Kings Park and Botanical Gardens, one of the world's largest and most beautiful inner city parks. It is rich in Aboriginal and European history, contemporary culture and offers innovative design, displays and services. Kings Park has an international reputation for scientific research, leading horticulture, conservation and public education and is home to the spectacular Western Australian Botanical Garden, which displays over 3,000 species of the State's unique flora. Visitors enjoy the sweeping views of the Swan and Canning Rivers, the city skyline and the Darling Ranges to the east.
At the Perth Mint, We'll take a guided heritage walk through the grand heritage building, the heavily secured vault and the original melting house providing the cues for many extraordinary stories about WA's golden history and the mint's prolific output of priceless gold bars and coins. The Gold Exhibition is a world-class attraction using the latest innovations in concept design and audio visual technology, to bring the story of WA gold, and The Perth Mint, to life.
Following our visit to the Perth Mint there will be time to purchase lunch along Elizabeth Quay, the new waterfront precinct on the banks of the Swan River. At the Bell Tower, home of the Swan Bells and ANZAC Bell, we will experience a live demonstration and explanation of full circle ringing by one of the experienced guides. The ANZAC Bell commemorates the Centenary of Anzac 2014-2018, marking 100 years since Australia's involvement in the First World War. Weighing in at 6.5 tonnes, the bell is the heaviest of its kind ever to be cast in Australia.
Our last highlight will be a delightful Swan River Cruise back to Fremantle. Enjoy a refreshment as our captain points out the sights along the river, admire the scenery of Perth's downtown skyline, upscale suburbs and not to mention the beautiful cliff faces of Black Wall Reach, the famous Point Walter "Spit"(called by locals) and Perth's iconic "Blue Boat House" the Crawley Edge Boatshed & Fremantle's busy inner harbour. This evening we'll gather for pre-dinner drinks and dinner.
Overnight Fremantle - Esplanade Hotel Fremantle by Rydges (or similar)
Day 12 - Tuesday 4 October 2022
Busselton - Margaret River (B,L,D)
Today after checkout we head off down to the beautiful Margaret River Wine District. Our journey has us passing by Mandurah before arriving at the new Featured Wood Gallery and Museum for a comfort stop, morning tea then a self guided tour. Our next stop is at Busselton home of the longest wooden jetty in the world at 1841 metres. We travel in through Vasse and into Busselton before taking a drive down to the marina and alongside the Sabina River.
On arrival a light lunch awaits us at the Equinox Restaurant and Bar before boarding the Stocker Preston Express Train which takes us the length of the jetty to the Underwater Observatory. Descend 8-metres below the ocean's surface, then gaze at the natural wonders that lie beneath the jetty where its piles have created Australia's greatest artificial reef host to an awe-inspiring forest of vividly-coloured tropical and sub-tropical corals, sponges, fish and invertebrates. Discover more than 300 individual marine species in their natural habitat through eleven viewing windows at various levels within the 9.5 metre diameter observation chamber.
Following our underwater adventure we continue down into the famous Margaret River wine region. After a short but informative town tour its time to check in to our accommodation, which will be our home for the next couple of nights. After a freshen up we gather for pre dinner drinks before dinner is served in the hotel restaurant.
Overnight Margaret River - Stay Margaret River (or similar)
Day 13 - Wednesday 5 October 2022
Cape Naturalist - Margaret River (B,L,D)
Cape Naturalist is the northern most point of the Leeuwin-Naturaliste Ridge and separates the relatively sheltered waters of Geographe Bay from the southern Indian Ocean. This morning we tour the twenty metre high Cape Naturalist Lighthouse overlooking Geographe Bay, built in 1903 with limestone carted by bullock wagon from a quarry about 1.5 km away. The new observation platform at the base of the lighthouse tower enables universal access to sweeping ocean views and great photo opportunities. Why not purchase a cuppa from the beautifully restored Lighthouse Keeper's Cottage Cafe that serves delicious cakes, coffee and light refreshments, the landscaped lawns and nautical-themed playground will entice us to sit and enjoy this wonderful heritage precinct. Then we take a drive down through Dunsborough which some rate as one of the most tranquil and magnificent locations in the world. Sparkling calm clear water and white sandy Dunsborough beaches are linked to town by lush green grass and shady paths. There is a bustling café atmosphere with plenty of gorgeous boutique shops. At Yallingup we'll enjoy lunch and explore the immaculate garden at The Caves House Hotel, originally built by the government, it opened in January 1903 and thus the township of Yallingup was born. Destroyed by fire, the now heritage listed hotel was re-built and re- opened in a fashionable art deco style in 1938.
The Margaret River Chocolate Company provides a fascinating final stop for the day with free chocolate tastings, interactive displays and viewing windows to watch the chocolate products being made. Information and merchandise are available on all aspects of chocolate, plus a mouth-watering range of chocolate bars, chocolate-coated delights, hand-made truffles, novelty chocolates, ice creams, chocolate milk and a variety of chocolate cakes and desserts.
This evening back at the motel we meet up for happy hour and farewell dinner in the Willow Bar and Grill.
Overnight Margaret River - Stay Margaret River (or similar)
Day 14 - Thursday 6 October 2022
Margaret River - Perth (B,L,D)
Our last day in Margaret River has us checking out after a leisurely breakfast then visiting Vasse Virgin Oil Soaps and Produce. Witness the soap makers craft their skincare range from natural ingredients, talk to staff about the benefits of extra virgin olive oil and taste the gourmet food range. Back in town there will be time to explore the main street brimming with little treasures for all to enjoy or at the Village at Margs with its major supermarket chains to the beauty sector speciality stores, cafés and everything in between. Close by we'll enjoy our last experience in the Margaret River wine region with wine tasting and lunch at Xanadu Winery, one of the premier and most picturesque wineries of the region.
Our return back up to Perth is via Bunbury's Dolphin Discovery Centre which now showcases an expanded range of themed fish and coral aquariums and an amazing 360-degree digital Dolphinarium, as well as an interpretation of the Koombana Bay environment and its history – geological, indigenous, marine and contemporary. Our journey arrives back in Perth late afternoon for check in, farewell dinner and overnight accommodation.
Overnight Perth - Doubletree by Hilton, Northbridge
Day 15 - Friday 7 October 2022
Perth - Melbourne (B,Onboard Flight)
Today we bid farewell to Western Australia as we transfer to the Perth Airport for check in and our flight back to Melbourne after 15 days of amazing travel from the East to West of Australia.
Thank you for travelling with Sisterhood Womens Travel and we look foward to welcoming you back for your next adventure.